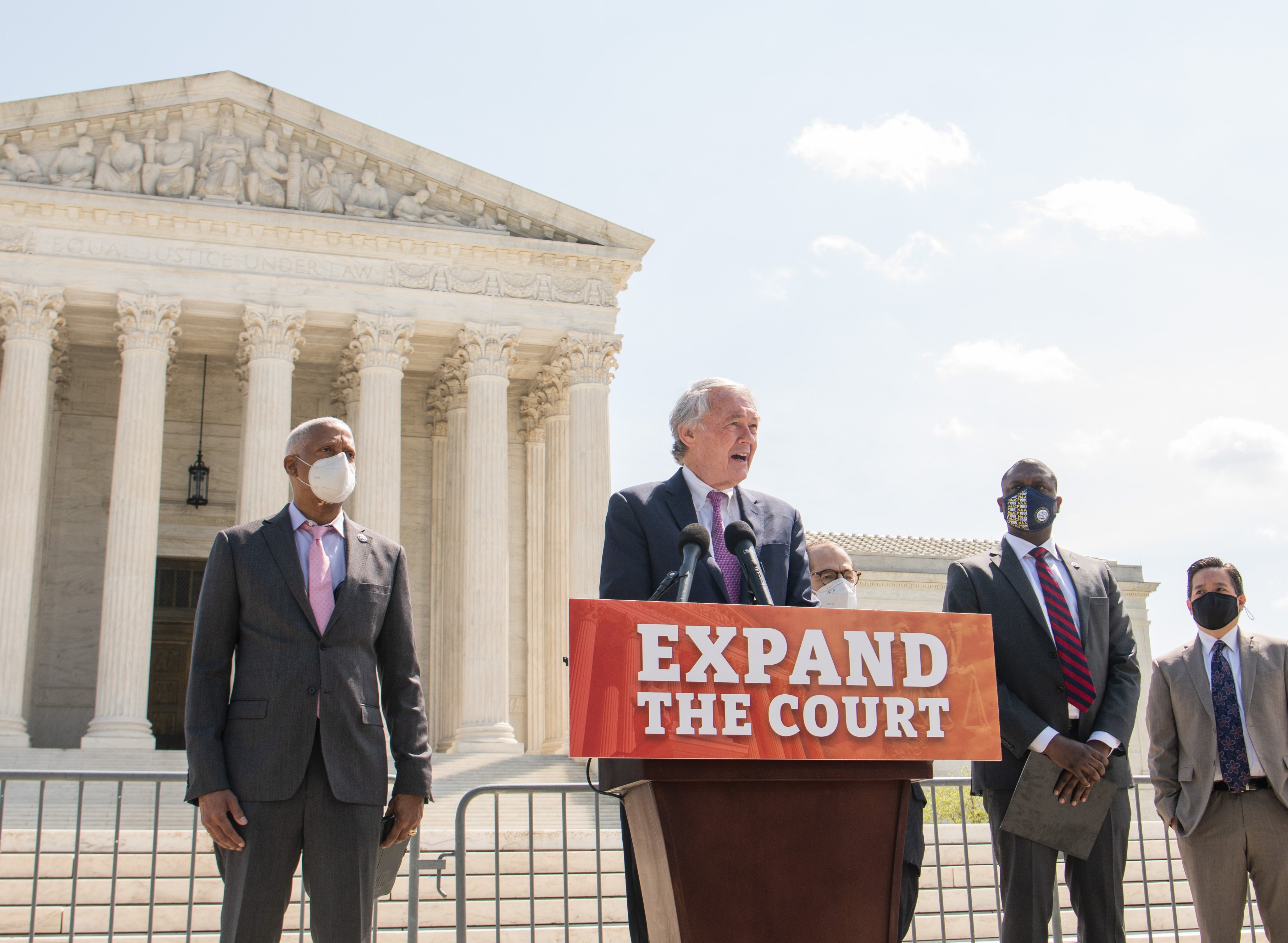 For the first time in decades, House Democrats have introduced a long-shot piece of legislation to increase the number of Supreme Court Justices from 9 to 13, a measure most believe is dead on arrival.
Earlier this week, President Biden signed an executive order establishing what he dubbed a 'bipartisan' commission to examine potential reforms to the highest court in the land. One of which includes whether to increase the number of justices benched.
President Franklin D. Roosevelt, a Democrat, was the last President to seriously push for a Supreme Court expansion, a move blocked by the Democrat controlled Congress, after the court struck down key provisions of The New Deal.
Constitutional scholars argue increasing the number of justices would politicize the court and delegitimize its role as a nonpartisan and neutral interpreter of law. It would also set precedent for future administrations to pass legislation allowing their party to increase the number of seated justices just enough to hold an ideological majority. 6 justices appointed by Republicans currently reside in the court whereas only 3 justices who were appointed by Democrats remain.
The legislation introduced by Sen. Ed Markey, D-Mass., House Judiciary Committee Chairman Jerrold Nadler, D-N.Y., Rep. Hank Johnson, D-Ga., and Rep. Mondaire Jones, D-N.Y., would give Biden the opportunity to appoint four additional justices, i.e. giving liberals a 7-6 advantage in the court.
Senator Markey, who had been advocating for this measure for over a year, said expanding the Supreme Court is the only way to repair the judiciary.
"Adding four new seats to the Supreme Court, to be filled by President Biden, will repair the damage done by Mitch McConnell and Donald Trump," he tweeted. "The bench will then rightly reflect the values of the majority of the American people on whose behalf they serve."
Court Packing advocates claim Trump and Republican appointments undermine the legitimacy of the Supreme Court, an argument eerily similar to that made by those who feel uneasy when the party in power threatens to appoint just enough Justices to give their ideological side an advantage in future cases.
"Nine justices may have made sense in the nineteenth century when there were only nine circuits, and many of our most important federal laws—covering everything from civil rights, to antitrust, the internet, financial regulation, health care, immigration, and white collar crime—simply did not exist, and did not require adjudication by the Supreme Court," House Judiciary Chairman Jerry Nadler (D-NY) wrote in a statement. "But the logic behind having only nine justices is much weaker today, when there are 13 circuits. Thirteen justices for thirteen circuits is a sensible progression, and I am pleased to join my colleagues in introducing the Judiciary Act of 2021."
Both liberal Justice Stephen Breyer and Ruth Bader Ginsburg have repeatedly warned against talks of court packing, fearing it would politicize the court and sow distrust in its ruling.
Speaker of the House Nancy Pelosi came out following the bill's announcement with less than favorable words.
"I have no intention to bring it to the floor," Pelosi said of the proposal. However, she's not ruling it out entirely, simply telling fellow Democrats to hold off for now. "I don't know that that's a good idea or a bad idea. I think it's an idea that should be considered. It's not out of the question," she added.
Even if the bill made its way to the Senate, it would not even reach the floor. Democrats hold the tie breaking vote in a 50-50 split, and would need 10 Republicans to jump ship to break a Filibuster. Currently, Democrats are two votes short of ending the filibuster itself, leaving them with no options to pass this bill.
Senator Markey is also calling on fellow democrats to end the filibuster, a Senate procedural tool requiring 60 members to signal support for the legislation in order to pass it. The filibuster has, in its more than 100 year existence, been the single greatest tool for Congressional bipartisanship, all but requiring the minority party to join in on supporting any new law.
Joe Biden had previously called expanding the court a "bonehead idea" during a 1983 Senate hearing, saying "it put in question, for an entire decade, the independence of the most significant body—including the Congress in my view—the most significant body in this country, the Supreme Court of the United States of America."